Fried Lamb Chops In The Pan Are Yummy!
➡️ When it comes to cooking lamb chops, the pan isn't the first choice for many people. Some like to cook them on the grill and others in the oven. However, the pan helps you cook some of the tastiest lamb chops!
---
---
Subscribe to our newsletter!
Stay informed with our newsletter! Sign up to receive updates on new recipes and culinary articles. Plus, after subscription, you get a FREE sample of the cookbook "10 Common Mistakes Anyone Can Make In The Kitchen" (download link provided in the Welcome email.)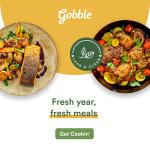 How to Cook Fried Lamb Chops in the Pan at Home
Lamb Cookbook
If you're ready to experience the taste of delicious lamb recipes, look no further than the "Cooking Lamb: A Delicious Lamb Recipes Cookbook" cookbook.
Fried Lamb Chops in the Pan with Rosemary and Garlic
Fried Lamb Chops in the Pan with Rosemary and Garlic is a flavorful and aromatic dish that is sure to delight your taste buds. This dish is easy to make and can be ready in no time, making it perfect for a quick and delicious weeknight meal. The lamb chops are first seasoned with salt and pepper, and then cooked in a skillet until they are browned and crispy on the outside, while still tender and juicy on the inside.
The addition of fragrant garlic and rosemary elevates the flavors of the dish to a whole new level. The minced garlic is sautéed in the skillet until it becomes fragrant, and then the finely chopped rosemary leaves are added to the pan to infuse the lamb chops with its aromatic flavors. The combination of garlic and rosemary adds a depth of flavor to the lamb chops that is irresistible.
After the lamb chops are seared and flavored with garlic and rosemary, they are baked in the oven to ensure that they are cooked to perfection. The baking process ensures that the lamb chops are cooked evenly and retain their tenderness and juiciness. Once they are removed from the oven, the lamb chops are allowed to rest for a few minutes before being served, to ensure that they are moist and succulent.
Fried Lamb Chops in the Pan with Rosemary and Garlic is a perfect dish to serve for a special occasion or for a family dinner. It can be paired with your favorite sides such as roasted potatoes, grilled vegetables or a fresh salad, making it a versatile dish that can be adapted to suit your tastes. This dish is sure to impress your guests with its flavors and presentation.
Ingredients
8

lamb chops, about 1-inch thick

2

tbsp

olive oil

4

garlic cloves

1

tbsp

fresh rosemary leaves, finely chopped

salt and pepper to taste
Instructions
Preheat the oven to 375°F.

In a large skillet, heat the olive oil over medium-high heat

Season the lamb chops with salt and pepper on both sides.

Once the pan is hot, add the lamb chops to the skillet and cook for 2-3 minutes on each side until browned.

Reduce the heat to medium and add the minced garlic and chopped rosemary to the pan. Cook for another 1-2 minutes until the garlic is fragrant.

Remove the lamb chops from the skillet and place them on a baking sheet lined with parchment paper.

Bake the lamb chops in the preheated oven for 10-12 minutes until the lamb is cooked to your desired level of doneness.

Remove the lamb chops from the oven and let them rest for a few minutes before serving.

Serve hot with your choice of sides.
Notes
Cooking Tips:
Make sure to use a heavy-bottomed skillet to ensure even cooking and browning of the lamb chops.
For an extra burst of flavor, marinate the lamb chops in the rosemary and garlic mixture for a few hours before cooking.
To ensure the lamb chops are cooked evenly, take them out of the refrigerator and let them sit at room temperature for 30 minutes before cooking.
Make sure to let the lamb chops rest for a few minutes after cooking to allow the juices to redistribute and ensure they remain tender and juicy.
For a crispy crust, use a paper towel to pat the lamb chops dry before seasoning and cooking.
We are sorry that this post was not useful for you!
Let us improve this post!
Tell us how we can improve this post?
Cooking Lamb Chops Is Healthy!
➡️ Cooking lamb chops is a great way to prepare simple, yet delicious meals. I recommend you choose bone-in lamb chops because they enable you to get juicier chops. Also, I recommend you keep the meat at room temperature for about 15 minutes before cooking to warm it a bit up. This will help the chops cook more evenly.
---
---
➡️ Another very tasty recipe for cooking lamb chops in the pan is the Gourmet Pan-Seared Lamb Chops with Red Wine Sauce and Roasted Root Vegetables. However, beside cooking lamb chops in the pan, I also recommend you to cook more flavorful lamb recipes available on this website such as slow-cooked leg of lamb with tomato sauce, fried lamb liver and onions, spring lamb meat schnitzel, Moroccan leg of lamb roast, Hungarian lamb soup, Hungarian lamb paprikash, Greek roast leg of lamb with red wine, Greek roast lamb, Greek lamb soup AVGOLEMONO, Italian spring lamb ragu, roast spring lamb, and French roast lamb shoulder. Many more lamb recipes are available in my cookbook Cooking Lamb: A Delicious Lamb Recipes Cookbook.
FAQs about Cooking Lamb Chops
What is the best way to cook lamb chops?
The best way to cook lamb chops is by pan-searing or grilling them. Start by seasoning the chops with salt, pepper, and herbs of your choice. Heat a skillet or grill over medium-high heat and cook the chops for about 3-4 minutes per side for medium-rare, or adjust the cooking time based on your desired level of doneness.
How do I ensure tender and juicy lamb chops?
To achieve tender and juicy lamb chops, marinate them for at least 30 minutes or up to overnight before cooking. The marinade can consist of olive oil, garlic, herbs, and acidic ingredients like lemon juice or vinegar. Additionally, be careful not to overcook the chops as they can quickly become tough and dry.
What internal temperature should lamb chops be cooked to?
Lamb chops are best cooked to an internal temperature of 145°F (63°C) for medium-rare, 160°F (71°C) for medium, or 170°F (77°C) for well-done. Use a meat thermometer inserted into the thickest part of the chop to ensure accurate cooking.
How long should I let lamb chops rest after cooking?
It's essential to let lamb chops rest for about 5-10 minutes after cooking. This allows the juices to redistribute, resulting in a more flavorful and tender meat. Cover the chops loosely with foil during the resting period to retain heat.
What are some recommended side dishes to serve with lamb chops?
Lamb chops pair well with various side dishes. Some popular options include roasted vegetables, such as potatoes, asparagus, or carrots, minted peas, couscous, or a fresh salad. The choice of side dishes can be tailored to your preferences and the flavors you want to complement the lamb chops.
Related Lamb Chops Recipes and Culinary Articles
Fried lamb liver
is one of those dishes that many people love, but don't really…
Hungarian lamb soup is a classic dish that has been enjoyed by generations of Hungarian…
Premium Cookbooks
Looking to elevate your culinary skills and expand your recipe repertoire? Look no further than a cookbook! Whether you're a seasoned home cook or just starting out in the kitchen, there's a cookbook in this store for you.
Featured Online Wine Delivery from the Best Online Wine Shops
---
📖 Cooking article by